2nd ERIC Forum Meeting
19-20 April 2018, Oxford – UK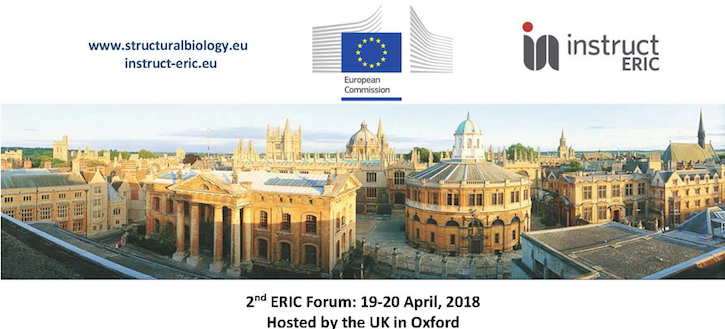 CERIC-ERIC will attend the 2nd ERIC Forum meeting at Instruct-ERIC in Oxford UK on April 19-20th.
Managers and staff of existing and prospective ERICs will have the chance to exchange best practices, and to discuss common problems and the related possible solutions with the delegates of the European Commission who will attend the event. Read more here.

CERIC training industrial PhD students through case studies from ACCELERATE
13 April 2018, Barcelona – Spain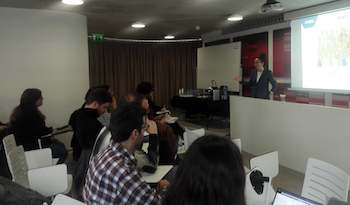 How can you select the companies which can be involved in your industrial research project? How can you create an attractive offer with efficient solutions? How do you formulate the elevator pitch of your research project to present to industrial partners you want to involve?  Read more here.

ACCELERATE @SYNERGI2018 showcases R&D solutions to industry in the automotive, pharma and energy sectors
8 March 2018, NEMO Science Museum Amsterdam – The Netherlands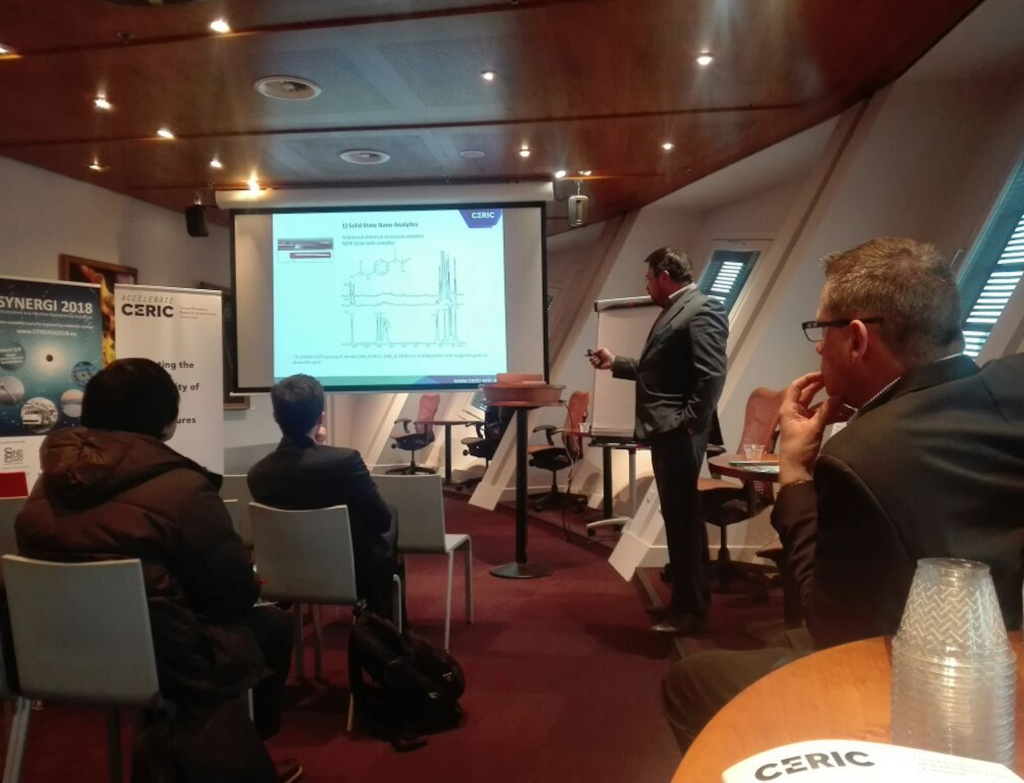 On 8th March, at the R2B event SYNERGI 2018 held in Amsterdam, 20 renowned players in different industrial fields, such as Toyota for automotive and Vallourec for energy, attended the ACCELERATE session on the CERIC's services for the industry, to learn more about the different uses of some of the techniques available and the type of problems they can solve. Read more here

ACCELERATE partners met at the annual Project's meeting to discuss upcoming actions in 2018
7 March 2018, The Hague – The Netherlands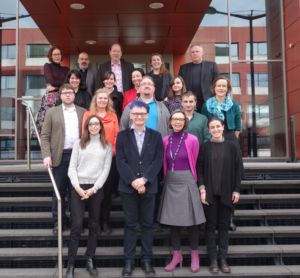 ACCELERATE partners met on 7 March 2018 at the premises of the Rathenau Institute in The Hague, to present the state of the project and upcoming steps. All work packages and related deliverables were presented, and partners discussed the possible improvements to increase the impact of the actions planned.

Collaborations in the field of nanotech boosted at the ACCELERATE R2B event in Prague 
14-15 February 2018, Prague – Czech Republic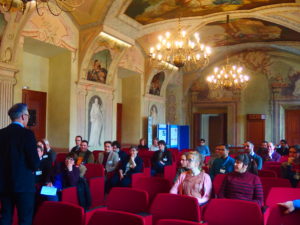 About 60 participants from 11 European countries explored synergies fostering knowledge transfer and network for the development of innovative technologies and applications in the field of nanotechnology at the conference "Nanotechnology: from Materials to Science". Read more here

Learn more about the industrial applications of nanotechnology at the 'Nanotechnology: From Materials to Science' conference
15-16 February 2018, Prague – Czech Republic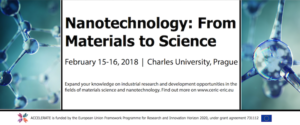 ESP invites you, together with CERIC, ESS, and HZG, to take part in the Nanotechnology from Materials to Science conference, which will take place at the Charles University in Prague, Czech Republic, on 15-16 February 2018. Read more here

ACCELERATE's results on RIs' socio-economic impact assessment presented for possible use in the Social Sciences and Humanities' field 
24-25 January 2018, Bologna – Italy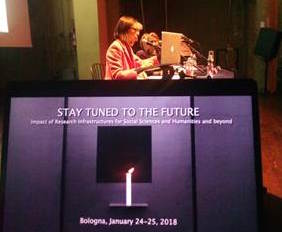 On 24-25 January, at the international conference "Stay tuned for the Future"in Bologna, Leonie van Drooge presented the approach the Rathenau Institute develops for ACCELERATE to the RIs' community in the fields of Social Sciences and Humanities. Read more here

CERIC meets the scientific community in Serbia through ACCELERATE
15 January 2018, University of Belgrade – Serbia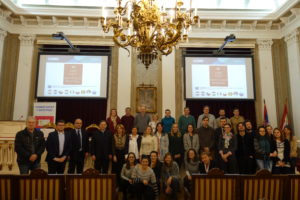 As part of the outreach actions organized in the framework of the ACCELERATE project, CERIC delivered a presentation on Monday, January 15th in the University of Belgrade to researchers and science enthusiasts under the theme: "CERIC-ERIC, Central European Excellence for Research in Material and Life Sciences". Read more here

Workshop on Human Resources in ERICs
17 November 2017, Graz – Austria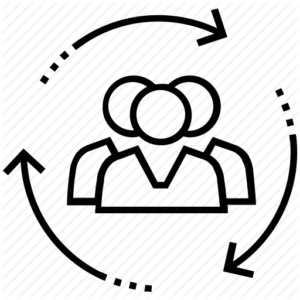 On November 17th, CERIC and ELI organised a workshop on Human Resources management in ERICs. The event was a great occasion for ERICs' managers and administrative personnel to discuss common challenges related to HR practices and processes. Read more here 

Research Infrastructures in ACCELERATE on the way to develop an improved methodology on socio-economic impact assessment
15 November 2017, Munich – Germany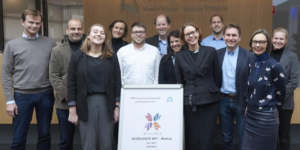 On November 15th, representatives from CERIC, ELI, the European Spallation Source, the Helmoltz-Centre Geesthacht and FRM II met in Garching to continue the development of a methodology for the monitoring and assessment of socio-economic returns of Research Infrastructures (RIs). Read more here

CERIC links researchers to entrepreneurs to encourage collaborations
20 October 2017, CERIC Headquarters, Trieste – Italy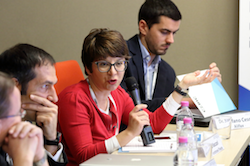 On October 20th, CERIC organized a Research to Business (R2B) meeting to connect industrial companies and researchers from the Italian Partner Facility at Elettra, and from the Slovenian one at the SloNMR, with the aim of strengthening the relation between the parties and therefore encouraging and building future collaborations. Read more here

CERIC Special Session at the 19th Conference of Czech and Slovak Physicists
4-7 September 2017, Prešov – Slovakia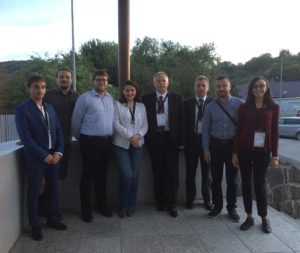 In the framework of the H2020 ACCELERATE project, CERIC took part in the 19th Conference of Czech and Slovak Physicists with a Special Session focused on the opportunities for open access offered by the Consortium. The conference was held at the Faculty of Humanities and Natural Sciences in Prešov, Slovakia, on 4-7 September 2017. Read more here

Research meets Business via ACCELERATE: Fostering collaboration between CERIC and the industry
20 October 2017, CERIC Headquarters, Trieste – Italy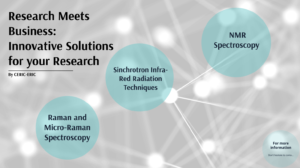 CERIC-ERIC is bringing together researchers from its partner facilities and industry representatives for a one day Research to Business (R2B) meeting at the CERIC headquarters in Trieste on October 20th, with the objective of encouraging and strengthening the collaboration between the parties. Read more here 

Training and networking activities at the CERIC-CEI CONTACT workshop brought together researchers from 14 countries in Central and Eastern Europe
26-27 June 2017, CERIC Headquarters, Trieste – Italy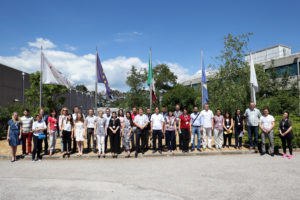 27 participants from 14 countries in Central and Eastern Europe attended the CONTACT workshop, CERIC-CEI training on advanced materials characterisation in Large Scale Research Infrastructures. The event was organized within the scope of the CEI Cooperation Activities – part of the CEI Plan of Action 2016 priorities, and was co-funded by the H2020 ACCELERATE project. Read more here

SAVE THE DATE: CONTACT workshop will be live-streamed on June 26th at 2p.m.
26-27 June 2017, CERIC Headquarters, Trieste – Italy
We are counting the days to welcome the participants for a fruitful and knowledge sharing experience at the CERIC-ERIC's headquarters in Trieste. The good news is that we are offering the opportunity for everyone to benefit from it: that is not only the 160 applicants who couldn't be physically present with us, but also the general public. Read more here

ACCELERATE WP1 leaders at the Eu-SPRI Conference
7-9 June 2017, Vienna – Austria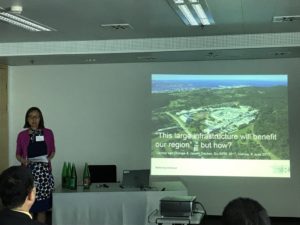 Mrs. Leonie Van Drooge (Senior Researcher at the Rathenau institute) presented the work she and colleague Dr. Jasper Deuten (Coordinator at the Rathenau institute) do for ACCELERATE at the annual Eu-SPRI conference, which hosted an audience of fellows in the field of research and impact evaluation. Read more here

CONTACT workshop: CERIC-CEI Training in advanced material characterisation in Large Scale Research Infrastructures
26-27 June 2017, CERIC Headquarters, Trieste – Italy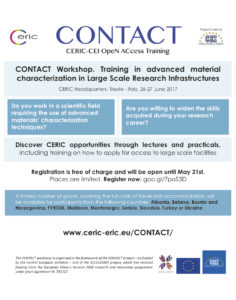 CERIC-ERIC and the Central European Initiative – CEI are glad to invite you to the CONTACT workshop, taking place at the CERIC headquarters in Trieste, on 26-27 June, 2017. The CONTACT workshop is open to researchers at any career stage, working in fields requiring advanced materials characterization. Read more here

Satellite Event at the NESY Winterschool 2017
6 March 2017, Altaussee – Austria

Students and early stage researchers interested in analytical techniques attended the CERIC satellite workshop that took place on the 6th of March along the well-known NESY Winterschool in Altaussee, Austria. The event, organized by CERIC within the framework of the ACCELERATE project – presented complementary methods for the analysis and characterization of advanced materials. Read more here

Workshop on Human Resources in ERICs
21 February 2017, Rome – Italy

On February 21, the CERIC-MIUR workshop on Human Resources in ERICs, co-funded by the MIUR and the EC H2020 project ACCELERATE, was held in Rome. The event focused on some of the topics of greatest interest to RIs managers: human resources, their management and the most difficult aspects of their regulations in an intergovernmental framework such as that of the ERICs. Read more here

ACCELERATE kick-off meeting
26 January 2017, Trieste – Italy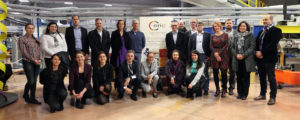 On January 26th, 12 representatives of project partners from six countries, gathered at the CERIC-ERIC headquarters in Trieste to launch the H2020 funded project ACCELERATE. The project's main objective is to help ensuring the long term sustainability of Research Infrastructures in general and ERICs in particular. Under the coordination of CERIC-ERIC, the project. Read more here