15-16 February 2018, Prague – Czech Republic
ESP invites you, together with CERIC, ESS, and HZG, to take part in the Nanotechnology from Materials to Science conference, which will take place at the Charles University in Prague, Czech Republic, on 15-16 February 2018. The event is organized in the framework of the ACCELERATE project.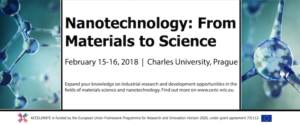 Who can attend?
The event is open to researchers, industry experts and science enthusiasts in the fields of nanostructures and nano-analytics. It is a two-day conference with the objective of sharing knowledge in those fields, discussing the innovative applications of nanotechnology in different sectors (such as ICT, health, energy and more) and exploring diverse collaboration opportunities between research organizations and companies.
What is the scope?
The conference aims at providing answers to highly up-to-date questions in the industrial research and development in the area of nanotechnology, and will present the offer of large-scale research infrastructures to answer those questions. A guided tour through the CERIC Czech Partner facility will complete the program.
How to register?
Register for the event here.
More details related to the topics that will be discussed and organisations which will facilitate the sessions can be found here.
The programme of the event and the sessions' abstracts can be found here.