On 15-16 May, CERIC, together with the ACCELERATE partner ESP participated in the trade fair and congress: ''Material science meets surface technology EUROFINISH + MATERIALS 2019'' in Leuven, Belgium.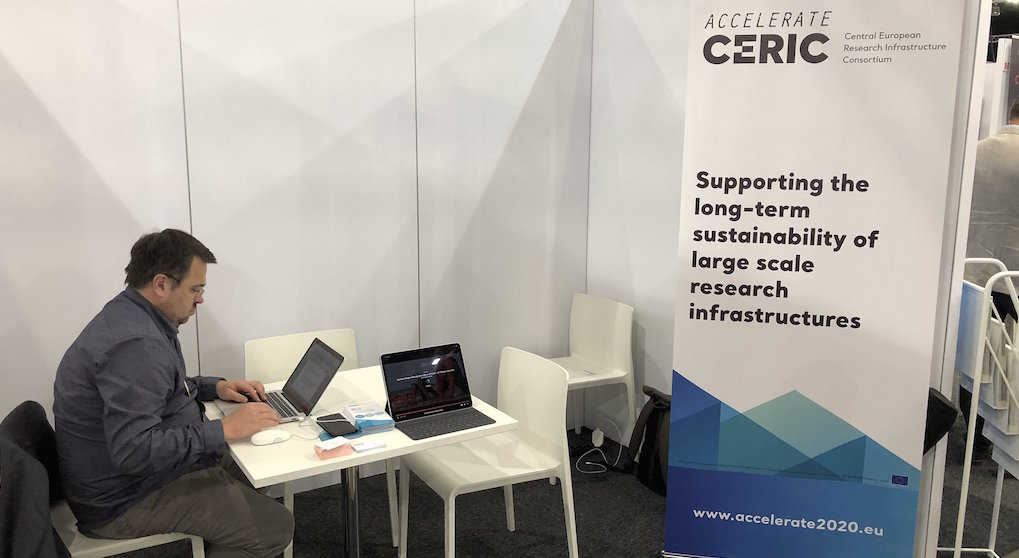 The fair brings together more than 140 exhibitors and 40 speakers to give an overview and present the latest developments within the Materials science area.
Materials science is a very broad field and involves various scientific branches. Materials exist in everything we see around us. Their method of usage depends on the specific application and development aimed for in the research study.  For industrial applications, materials can be raw – unprocessed, or processed before being used in more advanced production processes.
The event is focused on industrial research, mainly related to the basic materials for commercial productions and the surface treatment industry.
The visitors of the fair vary from: Material experts and researchers, Engineers, Chemists, R&D employees and managers, Quality managers and inspectors, Testing & measure experts, Innovation managers and more.
Dr. Aden Hodzic, Industrial Liaison & Application Scientist at CERIC-ERIC presented to the visitors his research project. It is focused on the use of multi-technique Nano-analytics in the pharmaceutical sector and their applications for drug research and quality control while avoiding potential drug side effects.
The upcoming laws and regulations at different levels for ensuring quality of products will bring more rigorous rules especially in the pharmaceutical and food industries.
Hence, the development and combination of new methods that allow useful results in the more sensible Nano-range, may respond to the new requirements. Moreover, it may and lead to a better quality of development and production as well as to shorter production times, while avoiding drug side effects and bringing a financial benefit.
Read more about CERIC's in-house research 'Nano-analytics for Pharmaceutics' here.