When:
April 20, 2021 @ 11:30 am – 12:30 pm
2021-04-20T11:30:00+02:00
2021-04-20T12:30:00+02:00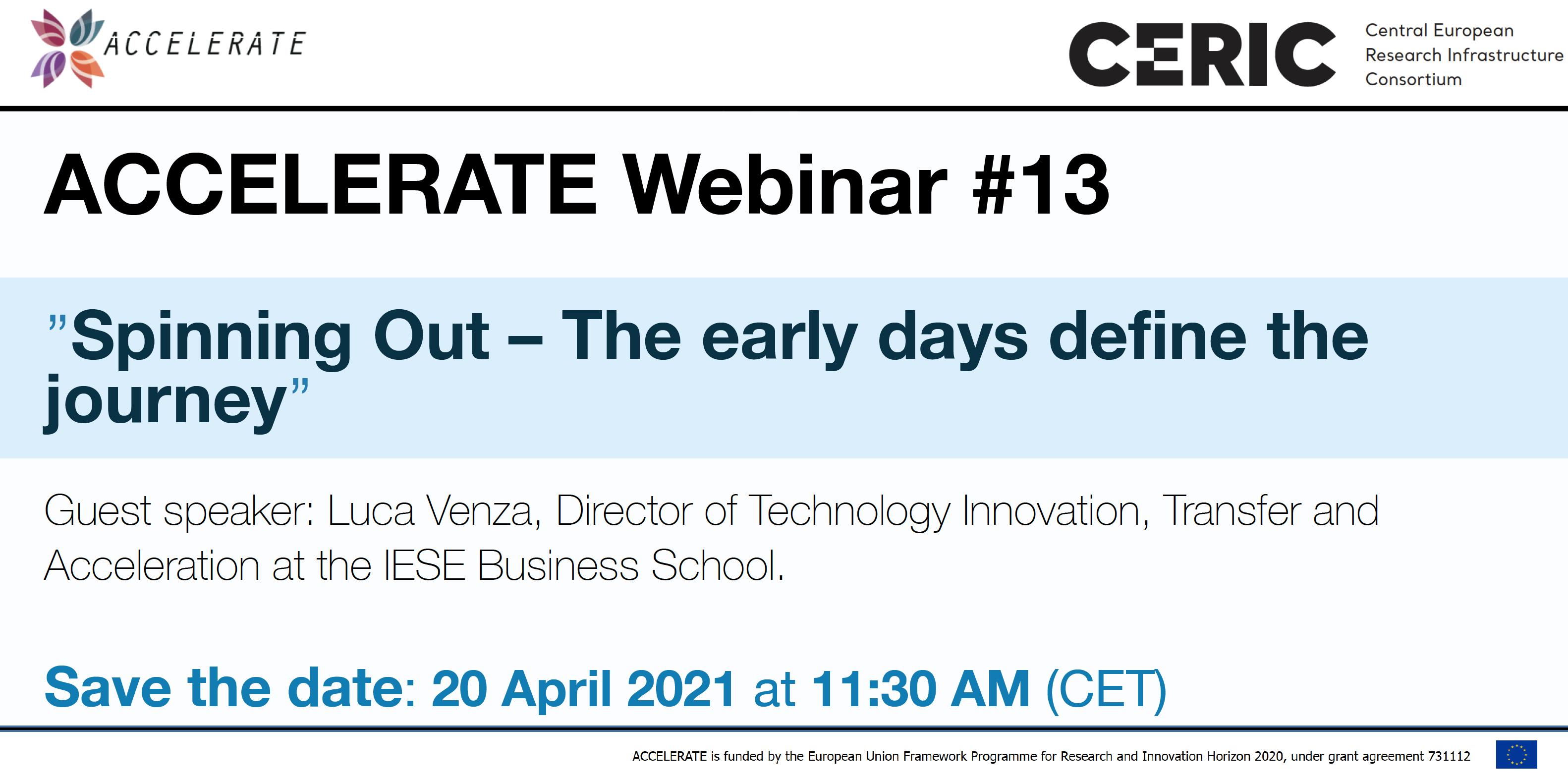 The 13th edition of the ACCELERATE webinars will take place on 20th April 2021 at 11:30 am (CET time). The speaker of this edition is Mr. Luca Venza, Director of Technology Innovation, Transfer and Acceleration at the IESE Business School.
Overview:
The event will bring together scientists, researchers, MDs, PhDs and others to expand their knowledge about how to build a spinout. Among other topics, the speaker will share real life examples of successes and failures of deep science technology experts who have experience with negotiation of shareholders agreements, licensing agreements, company by-laws and services agreements.
Moreover, the speaker will highlight the challenges of raising an early stage seed round and how to approach business angels and Venture Capitalists. Best practices and an overview of how strong founding team looks like in the early stages will also be presented.
About the speaker:
Mr. Luca Venza is a specialist in defining market-fit for advanced technologies across a broad industrial spectrum. For the past 7 years he has worked extensively with science backed startups and spinoffs to bring together top scientist-founders in their field, with top MBA talent worldwide. He has helped startups raise debt, equity and convertible financing from business angels, private investors and VCs. He helps recruit mixed experience management teams for new business ventures. In 2016, he founded the Barcelona Technology Transfer Group (BTTG), through which he has accelerated 31 companies across a spectrum of technologies, including data simulation, virtual reality, 3D printing, sensors, data transmission, drones and blockchain.  In parallel, he works extensively with new healthcare technologies throughout the EIT Health network in innovation and business creation projects. He serves as a specialist mentor for the World Economic Forum, Invest Horizon and EIT Food.
► Register here.