May
20
Thu
Tech for Social Good: How NMR & Ion Beams can help industry solve UN SDGs
May 20 @ 12:00 pm – 2:00 pm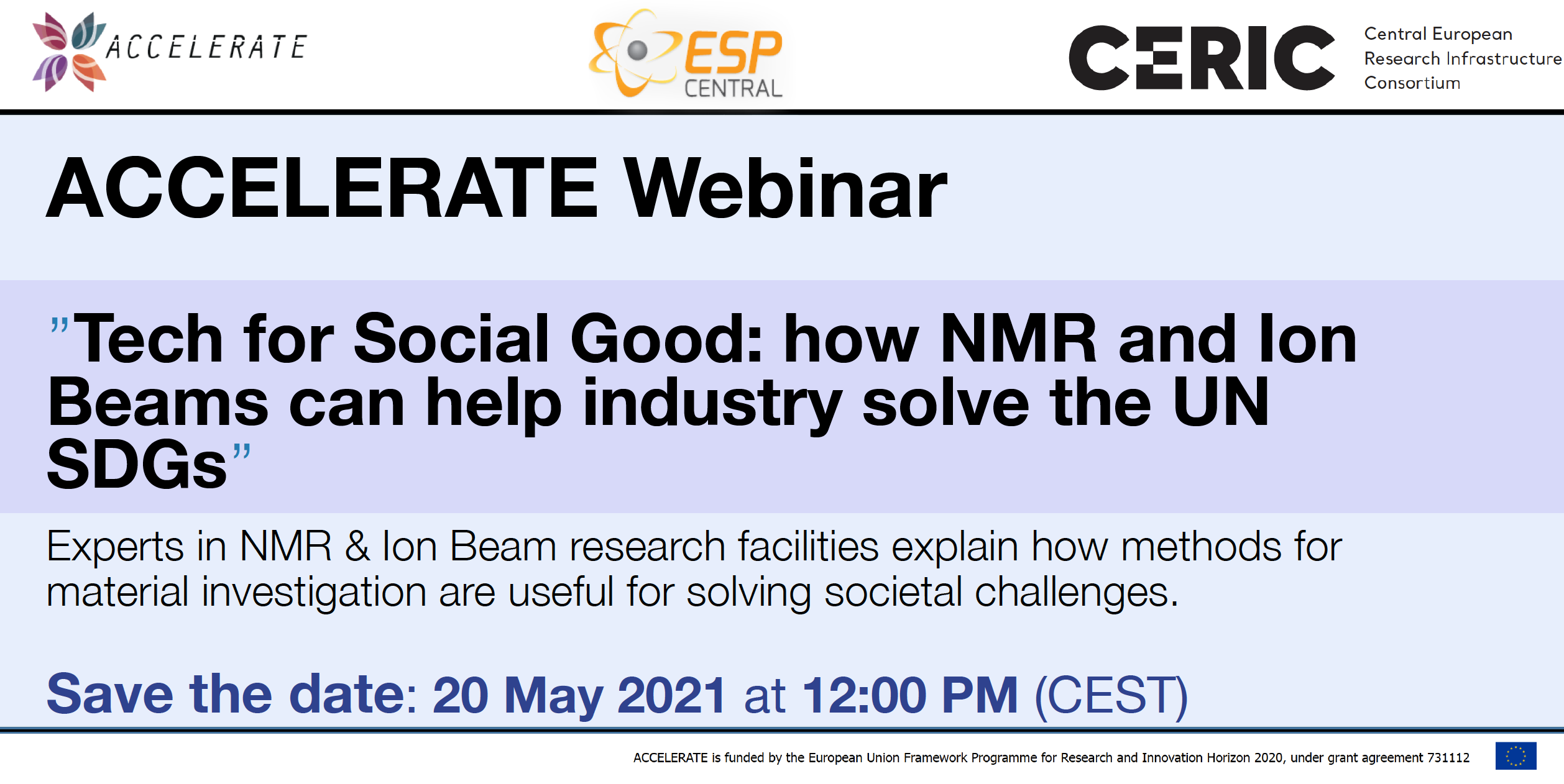 In the frame of the H2020 project ACCELERATE, CERIC and its project partner ESP are organising the "Tech for Social Good: How NMR & Ion Beams can help industry solve UN SDGs", which will be held online on 20 May 2021.
Through the event, experts in NMR (Nuclear Magnetic Resonance) and Ion Beam from CERIC's Partner Facilities will explain how methods for material investigation are useful for solving societal challenges.
Overview
According to a recent World Economic Forum and Accenture report 'Unlocking Digital Value to Society: A new framework for growth', technology for solving the United Nations Sustainable Development Goals (UN SDGs) is a $12 trillion global opportunity to 2030. Many large corporations now see addressing the UN SDGs as part of their long term mission strategy.
This interactive session is focused on scientists, researchers, entrepreneurs and business leaders interested in cutting-edge structural and material analysis capabilities that can contribute to developing 'Tech for Good' solutions. This event will be of particular interest to individuals who require a deeper insight into the functionality or structures of their materials for applications that are relevant to 'Tech for Good'.
Nuclear Magnetic Resonance (NMR) and Ion Beam experts at leading research facilities in Slovenia and Croatia will explain how industrial R&D can benefit from applying these techniques to help develop solutions that meet both business needs and help solve global societal challenges. This event will showcase how R&D benefits from the use of research facilities and their experts when conventional approaches fail to produce results.
Among others, the event will give you the opportunity to:
Learn how these techniques can help your company become a leader in developing technologies for social good for example, novel water filters to address SDG 6 – Clean Water and Sanitation, materials to replace plastics (SDG 12), novel batteries, fuel cells and capacitors for a zero-carbon future economy (SDG 7).
Discover how your company can benefit from collaborating with experts at leading European research facilities and achieve transformational partnerships.
Network with companies and thought-leaders sharing the same values and interests in Tech for Good.
Programme
Welcome and Introduction to the session
Networking
Introduction to CERIC facilities
Introduction to NMR and Ion Beam techniques followed by short Q&A
Achieving real world impact through collaboration (case studies)
How industry can partner with the Centre (case study)
Panel Discussion with industry
Close
► Register here.
May
25
Tue
Register now ► Planning for Sustainability of Research Infrastructures
May 25 @ 2:00 pm – 6:00 pm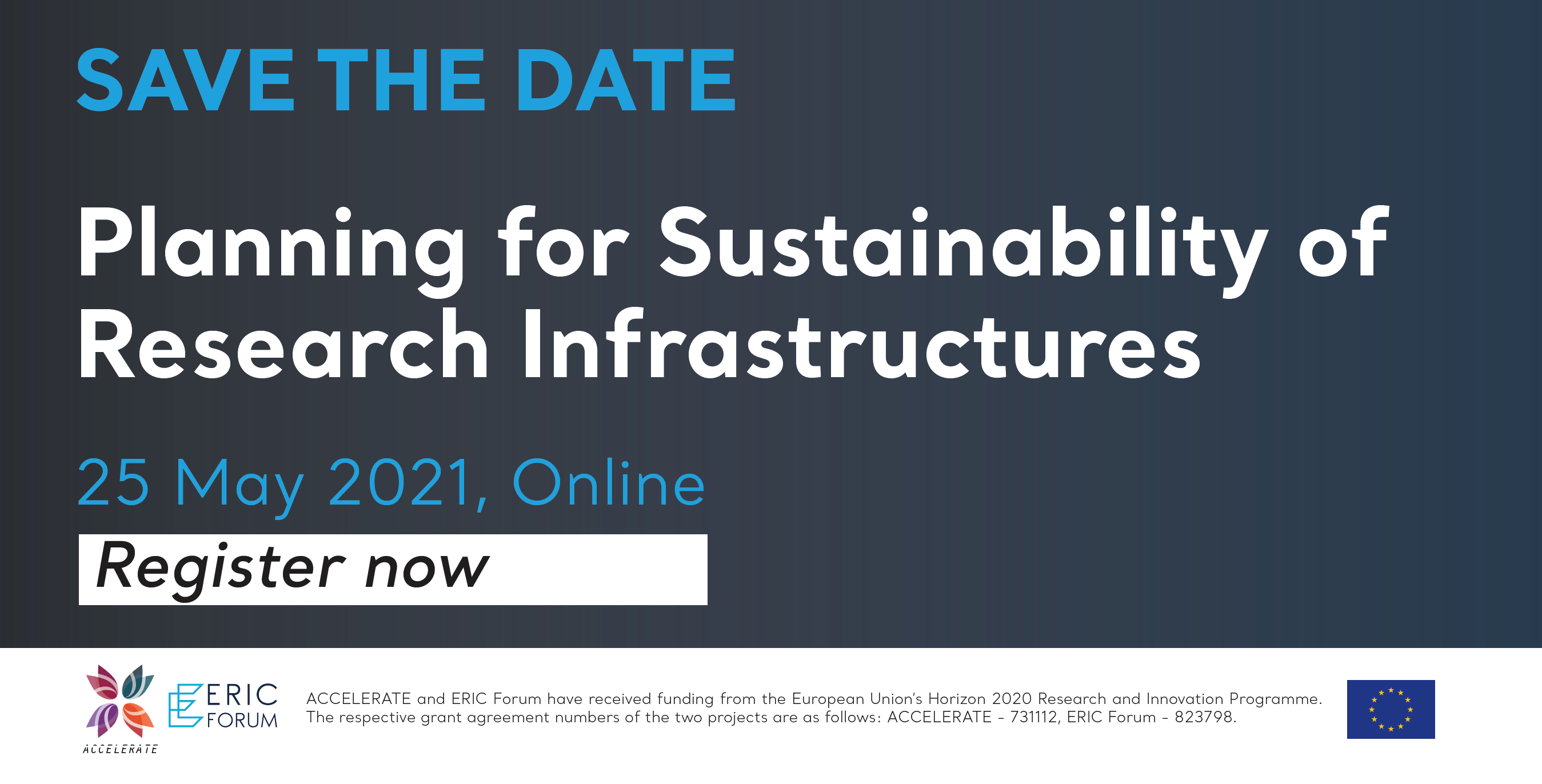 In the frame of the Horizon2020 projects ACCELERATE and the ERIC Forum Implementation Project, the event "Planning for Sustainability of Research Infrastructures" will be held online on 25 May 2021.
It will bring to the fore the policy views, examples from operational Research Infrastructures (RIs) as well as planning instruments proposed by European projects, to demonstrate various expectations, requirements and approaches in planning for the medium to long-term sustainability of the RIs.
The concluding policy panel will stress the positions of the RIs in the wider European policy framework, with strong relevance to sustainability planning of the RIs. The topics discussed will address the renewed European Research Area (ERA), Horizon Europe and the new Cohesion policy, ERIC instrument and European Open Science Cloud (EOSC), among others.
►  The event's program is available here.
► Register here. 
Programme Committee:
Salma Baghdadi, CERIC-ERIC
Ornela De Giacomo, CERIC-ERIC
Jana Kolar, CERIC-ERIC
Ute Gunseheimer, European Spallation Source ERIC
Lenka Unge, European Spallation Source ERIC
Ilaria Nardello, ERAMARIS
Organising Committee: 
Salma Baghdadi, CERIC-ERIC
Ornela De Giacomo, CERIC-ERIC
Jana Kolar, CERIC-ERIC
Ilaria Nardello, ERAMARIS
May
31
Mon
HERCULES Specialized Course 2021: The multi-technique approach of CERIC-ERIC as a tool for Nanoscience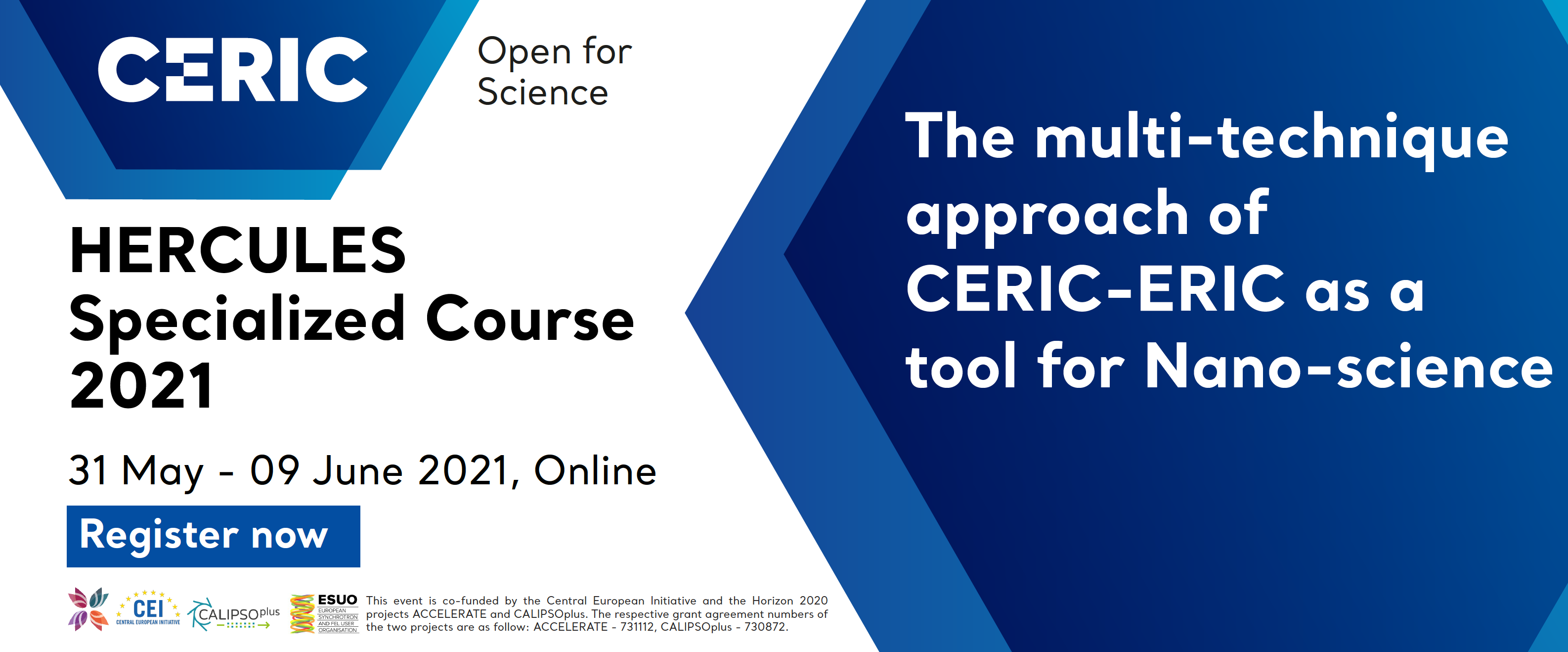 Description
The HERCULES Specialized Course (HSC) is an extensive training that is being organized since 2006, taking place after the main HERCULES School, and combining both theoretical and practical sessions.
This year's edition will be organized from 31st May to 9th June 2021 by CERIC-ERIC, in the framework of the H2020 projects ACCELERATE and CALIPSOplus and the CEI cooperation fund. It will bring together junior researchers to expand their scientific knowledge about large-scale Research Infrastructures.
The 8 days long on-line training will introduce participants to the different techniques offered by CERIC Partner Facilities along with their applications. Among the covered topics, there will be electron paramagnetic resonance, electron microscopy, ion- and neutron-based techniques, nuclear magnetic resonance, and photon-based techniques in both the x-ray and the infrared range of the electromagnetic spectrum. The program incorporates introductory sessions to each facility, practical sessions on various beamlines and instruments, a poster session and networking activities.
The event aims to create a unique opportunity for participants to feed their research careers with valuable theoretical and practical knowledge from experienced researchers. It is also the right environment for enlarging their professional network and exploring potential scientific collaborations and opportunities.
The event, open to researchers around the world, is primarily intended for young researchers (PhD students and postdocs) of physics, chemistry and biology, but more experienced researchers interested in the topic can also apply. The lectures will be given by leading experts in the field from CERIC partner facilities.
► The event's program is available here.
Scope
The HERCULES Specialized Course is organized with the aim of promoting international scientific cooperation and initiatives to support science diplomacy. Through the event we aim to raise awareness about the possibility of using different advanced techniques of analysis in research focused on different fields. By bringing together researchers from different countries, the event will be an opportunity for constructive dialogue across national and cultural borders and differences, speaking the language of science as a universal tool.
In that regard, the event will support in: 1) creating bridges in scientific research and collaborations, and 2) reducing the barriers that prevent researchers from target countries to create a strong user community, which accesses and uses the facilities of European large-scale Research Infrastructures.
Selection Criteria
A scientific committee will select the participants that are most qualified to take part in the HSC, based on the career stage and motivation letter.
The number of participants is limited to 30, considering the structure of the sessions and practical tutorials.
Funding Details
All selected participants will benefit from a grant fully covering the participation fee.
The grants offered by the Central European initiative (CEI) will be available and granted to two participants from the following target countries (based on the nationality), selected by the scientific committee: Albania, Belarus, Montenegro, North Macedonia, Bosnia and Herzegovina, Bulgaria, Serbia, Slovakia, Ukraine, Moldova.
The grants offered by the ESUO–CALIPSOplus will be available and granted to all participants from the remaining countries.
Note: The participants granted the bursary will have to pay the registration fee that will be later reimbursed right after the end of the event, subject to their participation to at least 80% of the activities.
Registration and Fees
The participation fee is 100e (please note that the fees are strictly used for the development of the various sessions of the event, and not for commercial purposes).
Payment instructions will be communicated in the notification of acceptance to the selected participants.
► Submit your registration here.
Registration deadline: May 3

rd

, 2021
Notification of acceptance: May 10th, 2021
Final registration deadline: May 17th, 2021
Notification to all registrants: May 24th, 2021
About CERIC-ERIC
CERIC offers access through a single-entry point to more than 50 different and complementary state of the art techniques and support laboratories, distributed in 10 countries, with the submission of single or multi-technique proposals. A detailed description of the facilities available in CERIC can be found here.
The CERIC-ERIC HERCULES Specialized Course is co-funded by the Central European Initiative and the Horizon2020 projects ACCELERATE and CALIPSOplus. The respective grant agreement numbers of the two projects are as follow: ACCELERATE – 731112, CALIPSOplus – 730872.