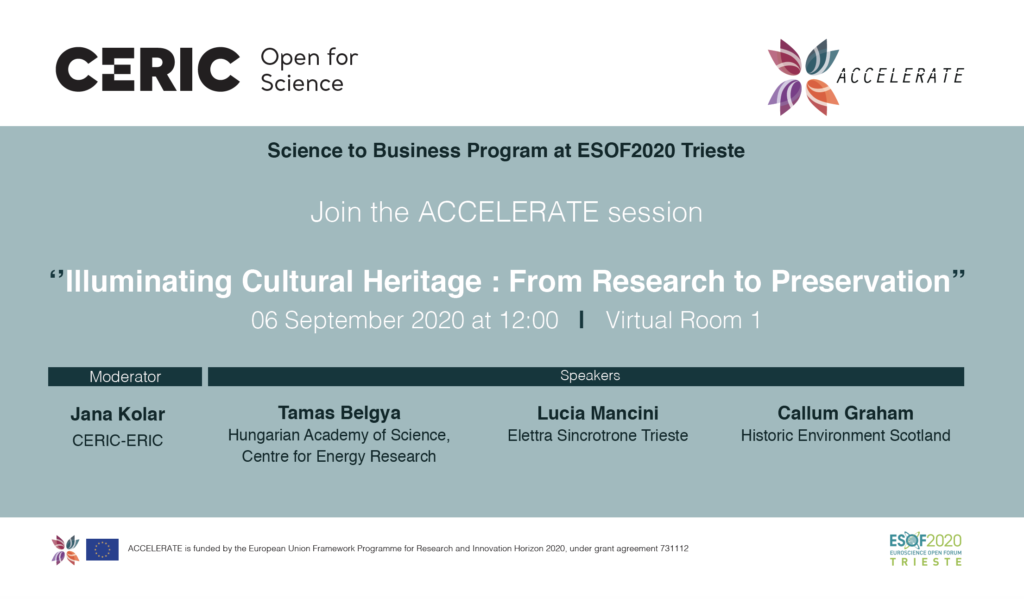 In the frame of the Horizon2020 project ACCELERATE, an ESOF2020 session focused on Cultural Heritage will be held online on 06 September 2020 at 12:00 pm.
The session will bring together 4 scientific experts in the fields to discuss various aspects of the need and the use of cultural heritage research, as well as its applications.
Among others, the topics of the discussion include:
Examples of cultural and natural heritage items that the speakers have worked on, and the techniques used for the research study. Some of these examples includes Leonardo da Vinci's Horse & Rider statue, fossils and more.
How cultural heritage can be protected using technology.
How different disciplines have successfully worked together to preserve cultural heritage.
Overview
Cultural heritage surrounds us everywhere and contributes in shaping the identity of every nation. It is very important to ensure the right preservation of the cultural heritage as it represents the history of society, which contributes to education, the economy, cultural awareness and more.
Taking into account several factors such as the weather, components of the elements and their change through the years, the development of innovative ideas is a major pillar for Cultural Heritage management.
During this session, the speakers will explore examples of cultural heritage items to understand how our ancestors produced these objects, what are their functionalities, what materials have been used and which environmental factors degrade them.
Moreover, it will be shown how large scale infrastructures such as synchrotrons and neutron sources are helping to solve those riddles. During the session, the translation of knowledge from fundamental physics and materials science into cultural heritage will be highlighted.
Session moderator:
Jana Kolar, CERIC-ERIC. Click here to read the biography.
Session speakers: