When:
September 26, 2018 – September 28, 2018
all-day
2018-09-26T00:00:00+00:00
2018-09-29T00:00:00+00:00
Contact:
CERIC-ERIC ILO (Industrial Liaison Office)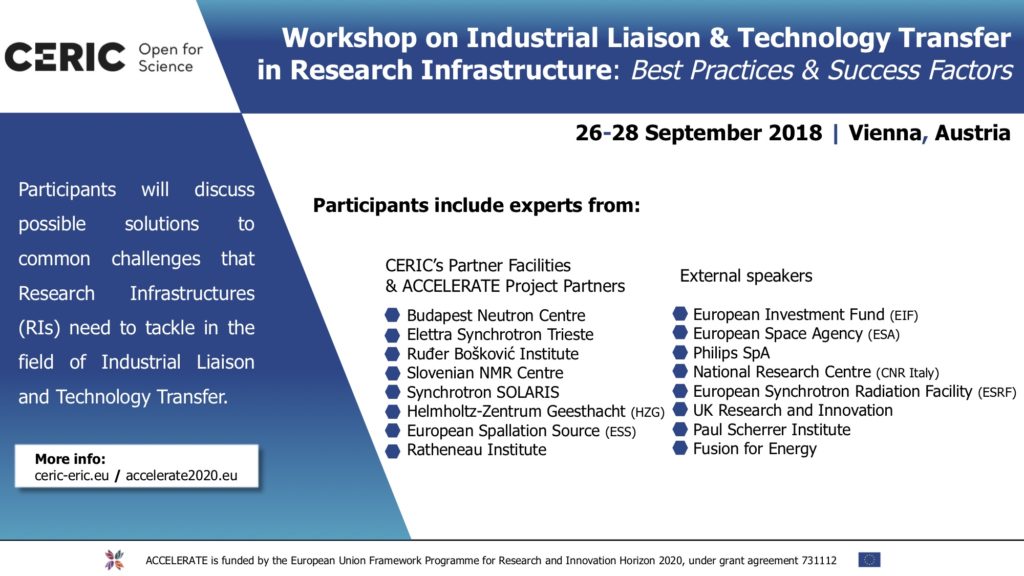 CERIC is organizing a workshop on industrial liaison and technology transfer (IL/TT) activities in research infrastructures, taking place in Vienna on 26-28 September, 2018.
The aim of the event, organized in the frame of the ACCELERATE project, is to discuss major industrial liaison challenges in a research infrastructure, as well as potential solutions to face them efficiently. The event will gather the distributed IL/TT staff of CERIC to share questions and best practices stemming from their experience as IL/TT professionals working in the research environment. External experts will give insights on aspects ranging commercialization, coordination with researchers and management of external collaborators' networks, and will present major success & failure cases.
The programme of the workshop can be found here.
For more information, you can contact ilo@ceric-eric.eu.