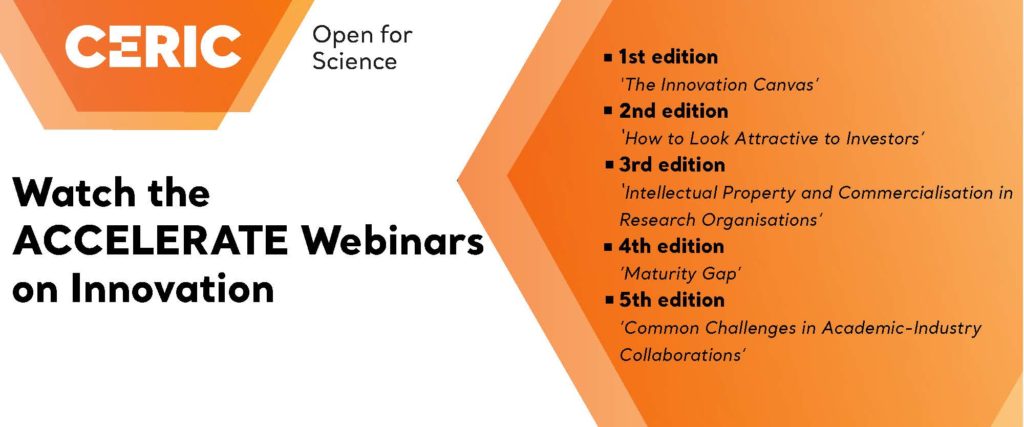 In the framework of ACCELERATE, a series of webinars are taking place each month in which one of the key aspects related to Innovation, Industrial Liaison and Technology Transfer is presented by experts and discussed with the participants.

07 November 2018
The first edition focused on innovation effectiveness. It was facilitated by Mr. Frank Boyd, Innovation Specialist at the Knowledge Transfer Network (KTN), where he is working on a project to capture best practice in innovation and to develop resources that provide practical help for business. Throughout the session, the Innovation Canvas, developed by KTN to support innovation ideas, was described.
You can watch the 1st webinar here.

02 April 2019
In order to bring innovations out of the lab into commercial exploitation, it is crucial to take into consideration the various aspects that can make the project attractive to potential investors.
In the second edition, Mr. Ian Tracey, Head of Access to Funding and Finance at the KTN (Knowledge Transfer Network), focused on the important factors for attracting investors in the Science – Industry environment by demonstrating how to make a pitch to investors. Mr. Tracey also highlighted the key features that investors pay attention to when assessing potential commercial projects.
You can watch the 2nd webinar here.

14 May 2019
The third edition tackled an important pillar within the industry – research collaboration context: Intellectual property and patenting. It was presented by experts in the field: Dr. Purewal, a practicing IP attorney (UK and European Patent Attorney) with a PhD in Theoretical Physics and Dr. Connell, a UK and European Patent Attorney with a PhD in Physical Chemistry.
The webinar targeted anyone involved in research and technology transfer activities. Participants were introduced to IP, its creating, ownership and commercialisation. The common pitfalls to avoid while commercialising IP in a research environment were also presented.
You can watch the 3rd webinar here.

11 June 2019
The fourth edition focused on the maturity gap and a related case at the Cracow University. It tackled the best practices to overcome innovations maturity gap between research technology organizations and the market.
The speaker was Mr. Jakub Kruszelnicki, co-owner of the company Creative Labs and OaSIS Project coordinator (OaSIS: Optimizing Support of Innovative SMEs).
You can watch the 4th webinar here.
16 July 2019
The fifth edition focused on the common challenges faced while running industry-university projects and assessed their practical threads and pitfalls.
This edition was facilitated by Dr. Steve Welch, Director of Innovation at The Knowledge Transfer Network (KTN). Dr. Welch showcased the main issues that can occur throughout this kind of collaborative projects and presented suggestions of how these challenges can be prevented.
You can watch the 5th webinar  here.