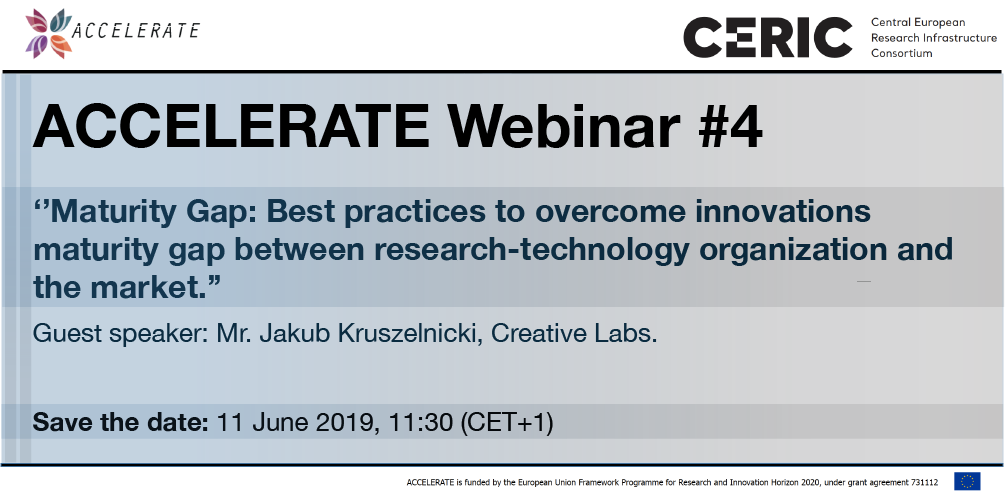 The 4th edition of the ACCELERATE webinars will focus on the maturity gap and a related case at the Cracow University. It will tackle the best practices to overcome innovations maturity gap between research technology organizations and the market.
The speaker of this edition is Mr. Jakub Kruszelnicki, co-owner of the company Creative Labs and OaSIS Project coordinator (OaSIS: Optimizing Support of Innovative SMEs).
Mr. Kruszelnicki has been working in the field of innovation since 2007. Since 2010, he worked in Barcelona, Spain at as an International Innovative Project Manager and was assigned as Responsible for International R&D Projects to Knowledge Innovation Market. After establishing a European Projects Office, his responsibilities have been extended from a European to an International scope assigning the role of opening new markets as technology broker in various regions such as Latin America and Eastern Europe. As from 2014, Mr. Kruszelnicki has relocated to Cracow and took over the responsibility of Director of Technology Transfer Centre of Cracow University of Technology. From 2018, he has been coordinating and conducting international research on the OaSIS Project and launched Creative Labs.
The webinar will take place on 11 June at 11:30 (CET+1).
► Register here.